Valérie Duchâteau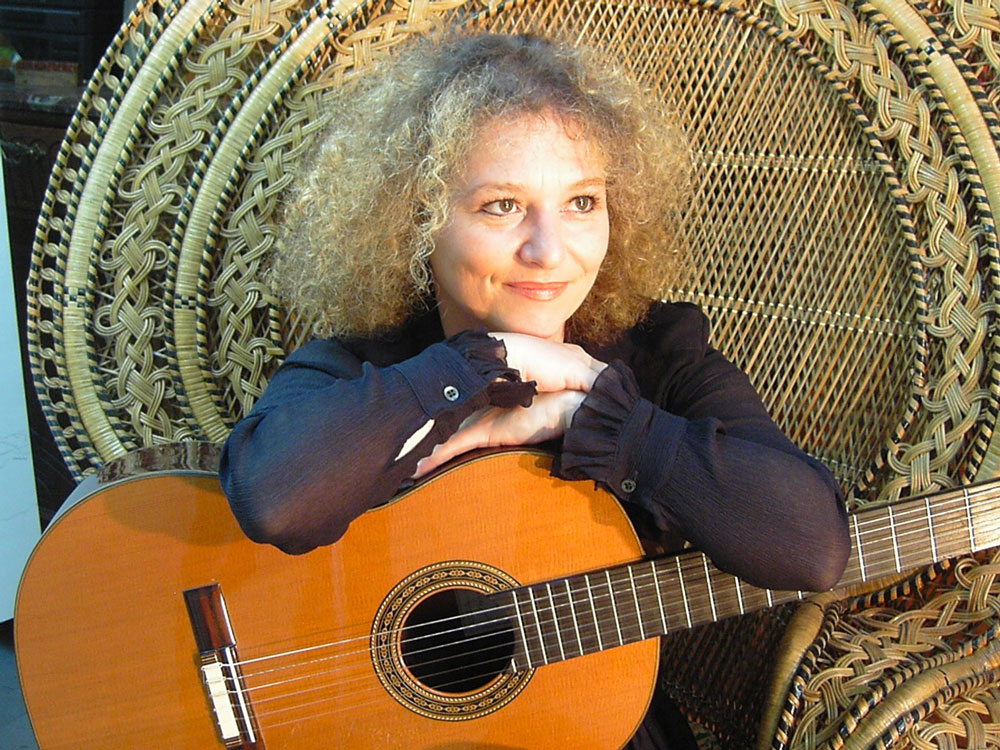 Born in Metz, Valérie Duchâteau immersed herself from a very early age in Catalan culture in Céret, where she arrived at the age of 4. She also discovered Spanish culture and music with guitarist Angel Iglesias, with whom she began studying guitar at the age of 9. Alexandre Lagoya was responsible for her successful development. When she was 11 years old, he made her his privileged student and in 1985 she won the 1st prize at the Conservatoire National Supérieur de Musique de Paris. Then was New York, following a 1st Prize of the Addario Foundation and a long tour with David Leisner, which paved the way for her international career as a classical guitarist.
Her meeting with Marcel Dadi led her to discover 'picking' and country music. She became the ambassador of the Atkins Dadi Pickers association whose goal is to bring together all guitarists regardless of the style of guitar they play. Picking festivals became her second family and she shared the stage all over the United States with the greatest names, Chet Atkins, Larry Coryel, Nato Lima, Peter Finger, Bireli Lagrène…
It is in Nashville in the United States, where she feels more at home, where she recorded her first album, America, under the direction of Tom Bresh, a huge country guitarist and son of the famous Merle Travis.
Since then, her exceptional musical journey has been marked by: a method, an educational video, many CDs and the creation of two magazines completely differencing in style and form from the existing specialized ones: "Guitarist Acoustic", European No. 1 in acoustic magazines in 2004 and "Guitarist Acoustic Classic" in 2008, which later became known as "Classical Guitar".
After a two-year return to the Paris Opera under the direction of James Conlon, Valérie Duchâteau began writing arrangements for Barbara's songs. "La Guitare chante Barbara" became a show with more than 200 hundred performances to date. The album is distributed by Harmonia Mundi and was re-released 3 times. Following this was "Parfum de Django", a real immersion in the work of Django Reinhardt and, most recently, "La Guitare Chante Jacques Brel", premiered in Brussels in April 2018.
Valérie Duchâteau is also the creator of the collection "Les Chefs d'oeuvre de la guitare classique", of which 7 volumes have already been published to date.
Valérie Duchâteau also performs in new innovative styles, "Les Guitares Improvisibles" with her jazz and picking travelling companions Antoine Tatich, Eric Gombart and Solo Razafindrakoto.
Most recently, Valérie Duchâteau has performed with Jean-Baptiste Marino as part of the "Symphonic Guitars", which integrates classical and flamenco guitar with a symphony orchestra. Her brand new programme, "Guitarra Latina" has been designed and will be created for the International Guitar Festival in Béarn des Gaves at the request of Pierre Bibault.
6ème édition du Festival : Du 6 au 9 juillet 2023 - La billetterie est ouverte !