Pierre Bibault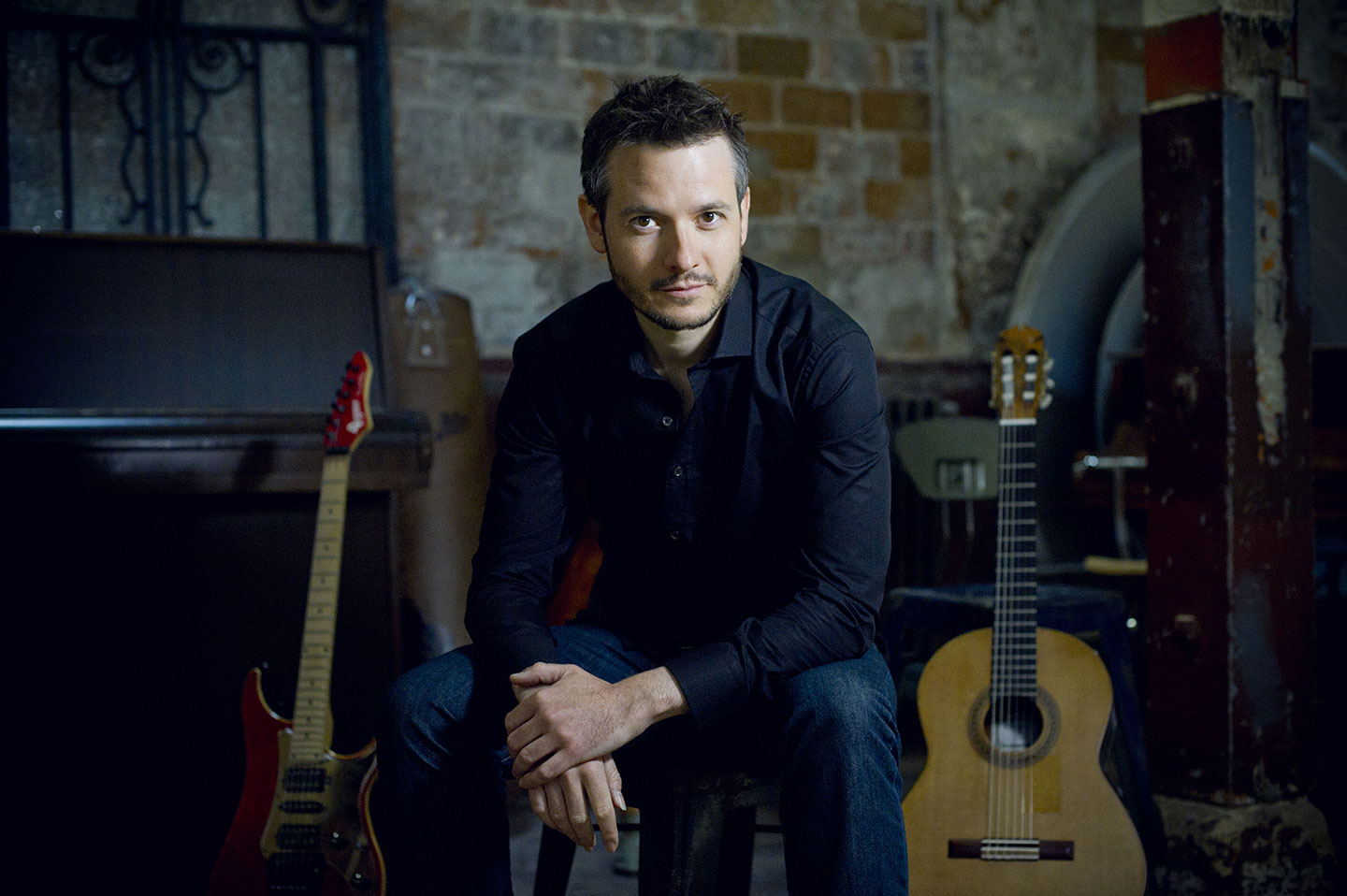 Open-mindedness and curiosity characterize the musicality of the multi-faceted French classical and electric guitarist, Pierre Bibault. He is both soloist and chamber musician, and explores a diversity of music from the Renaissance to the present day, with a particular attraction to contemporary music and is dually a 'recognized' and 'dedicated' transcriber of contemporary music. He is holder of the "Diplôme de Concertiste" Ecole Normale de Musique de Paris and of three Masters ('Interpretation' – Maastricht, 'Pedagogy' – Liège and 'Musicology' – Sorbonne). He is also currently completing a "Doctorat (Ph.D.) d'Interprète" at the Royal Conservatory of Brussels (Belgium), where he combines instrumental research and Thesis on the Gesture and microGeste of the Performer and the transmission of vibration from the composer to the public, with applications particularly towards new technologies.
He performs more than 50 concerts a year internationally throughout Western and Eastern Europe, the United States, Asia, Canada, North Africa, and for many prestigious venues including, the Paris, Brussels, Liège, Lviv and Khmelnitskie (Ukraine) Philharmonics, the Radio Houses in Paris and Brussels, the Avignon, Reims, Rouen and Liège Opera houses, the Palais des Festivals de Cannes, the St George's Bloomsbury Church and the Wigmore Hall in London, the Art and Culture Center of Bangkok, the Art Center of Jakarta, the Cathedral and the Museum of Contemporary Art of Liège, the Tyska Kyrkan of Stockholm, the Chapelle Bon-Pasteur of Québec, the Kouvoutsakis Art Institute of Athens, the Universities of Cincinnati, Indianapolis, Houston, Louisville and Lafayette, Louisiana – USA, just to name a few.
Pierre Bibault's musical activities are varied and numerous, which makes him one of the most sought-after current guitarists. As a soloist, he explores the repertoire of Contemporary Music by combining classical and electric guitars, electro-acoustic, live electronics, samplers, loopers and computers. He frequently plays for renowned contemporary music ensembles such as the Ensemble Intercontemporain under the direction of Matthias Pintscher, 2E2M and Mezwej. He is part of Thierry Pécou's Ensemble Variances, which he joined in 2017 (Opéra de Rouen, Festival Présences de Radio France, Wigmore Hall in London, etc.) for a series of projects and creations (Marinissen, Andriessen, Takemitsu, Pécou, etc.). He is also very active in various Chamber Music ensembles: with cello, violin, flute, voice, chamber and jazz orchestras.

Noted for his extensive orchestral experience, Pierre has been playing with Patrick Leterme's Candide Orchestra since 2014, in which he has taken part in the productions of Brundibar, Fiddler on the Roof, and Les Parapluies de Cherbourg. He has also recorded the guitar part of Friedrich Gulda's Cello Concerto (soloist: Edgar Moreau) for the ensemble Les Forces Majeure and the Warner Erato Label. From 2006 to 2016, he played alongside Duo Resonances, one of the most active guitar duets of its generation. Together, they gave more than 300 concerts and recorded 'Jun-Tokusen' (Diapason d'Or) which was quickly recognised as a reference and ranked among the 50 best records of the year 2015 in Japan; iTunes' favourite, February 2014; "First Album" – Thisisclassicalguitar, March 2014. Among his other activities, he has been Advisor and Project Supervisor for the Paris Guitar Foundation since its creation in June 2014 and Artistic Director of the Festival International de Guitare en Pays de Gaves, which he helped create in 2017.
Since 2002, teaching has also become an important part of Pierre Bibault's musical life. He has earned the title via concours as "Professeur des Conservatoires de Paris (Cat. A)", in the 12th and 16th districts from September 2018, and has been Teacher-Researcher/ Guitar Assistant at the Royal Conservatory of Brussels since 2016. He regularly gives Masterclasses and Conferences throughout France and abroad in Universities, Festivals, Summer Academies, Conservatories and other Cultural Institutions.
6ème édition du Festival : Du 6 au 9 juillet 2023 - La billetterie est ouverte !