Anabel Montesinos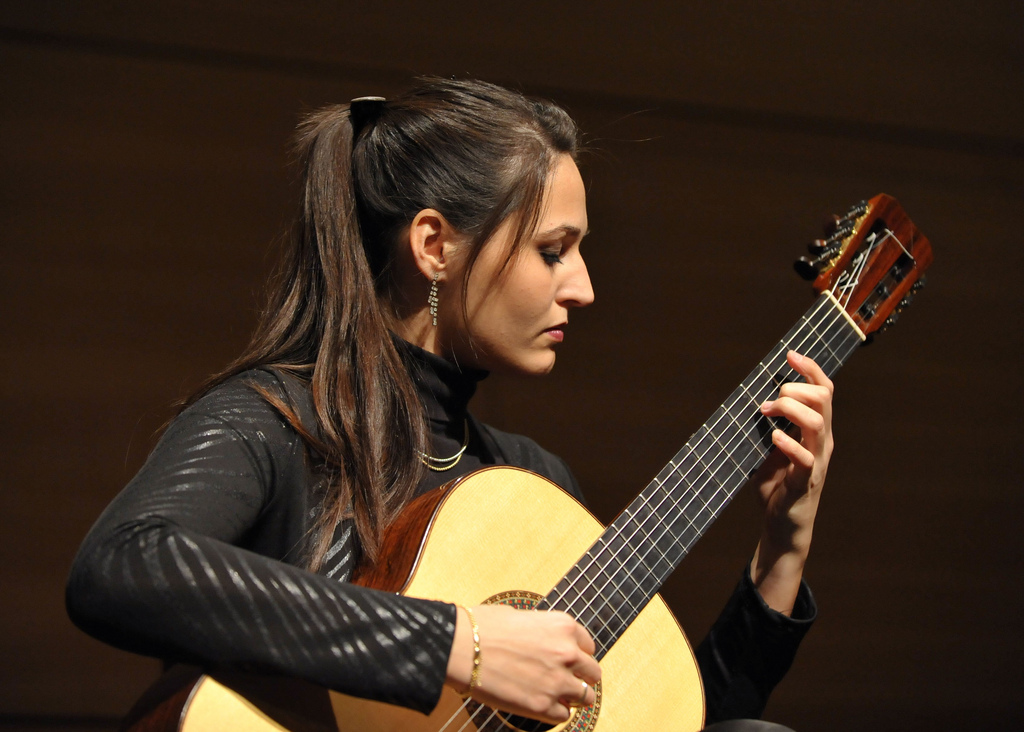 Anabel Montesinos, the youngest winner (at the age of 17 years old) of the Francisco Tárrega International Guitar Competition in Spain, is a leader figure on the classical guitar worldwide. As Winner of more than 10 first prizes in major guitar contests like the Michele Pittaluga, Citá di Alessandria, in Italy, the Julián Arcas, in Spain, the Raifeisenwettbewerb in Salzburg, Austria, among others, Anabel Montesinos has performed concerts all around the world, made her Debut at the Carnegie Hall in the year 2011, she has played Concierto de Aranjuez by J. Rodrigo in Postdam "open air concerts", Berlin, for more than 4000 people, and performed with orchestras like the Philharmonic of Turin-Italy, Simón Bolivar Symphony Orchestra in Venezuela, Philharmonic of Oulu-Finland, Havana Philharmonic -Cuba, Philharmonic of Moscow-Russia, etc. She is also a Honor Citizen of the city of Solero, in Italy. Anabel Montesinos has recorded for the label Naxos, and her first CD was chosen as a part of the music program for intercontinental flights by the British Airways. Her albums have been praised by the international press highlighting the beauty, freshness and virtuosity of her interpretations. She has shared a concert poster with Paco de Lucía, presenting "the other side of Spanish music" with a resounding success. Her tour in 2019 finished with the performance of "Bohemian Rhapsody" by Queen for orchestra, choir and guitar, a selection of songs from the rock band which was praised with outstanding ovation. She plays on a Steve Connor guitar and is a Savarez Artist.
Prizes:
-First Prize at the Michelle Pittaluga Int. Guitar Competition, in Italy.
-First Prize, Audience Prize and Prize for the best interpretation of a work by F. Tárrega, at the Tárrega International Guitar Contest in Spain.
-First Prize at the International Contest of Krynica, Poland.
-First Prize at the Raifeisenkasse Int. Concert Competition, in Salzburg, Austria.
-First Prize at the "Juventudes Musicales" Competition in Girona, Spain.
-First Prize at the "America Martinez" competition in Sevilla, Spain.
-First Prize at the International Contest "Julian Arcas" in Almería, Spain.
-First Prize at the International Guitar Festival, Villa d' Anthony, in France.
-First Prize at the "Vila de Salou" competition in Spain.
-First Prize at the International Competition El Condado in Jaén, Spain.
-First Prize at the Instrumental Competition Sant Anastasi in Lérida, Spain.
-Prize Golden Guitar, at the International guitar Convenio in Alessandria, 2011, for the promising young talent and acknowledge of her artistic activities.